Burgundy Golf Barge Cruise
---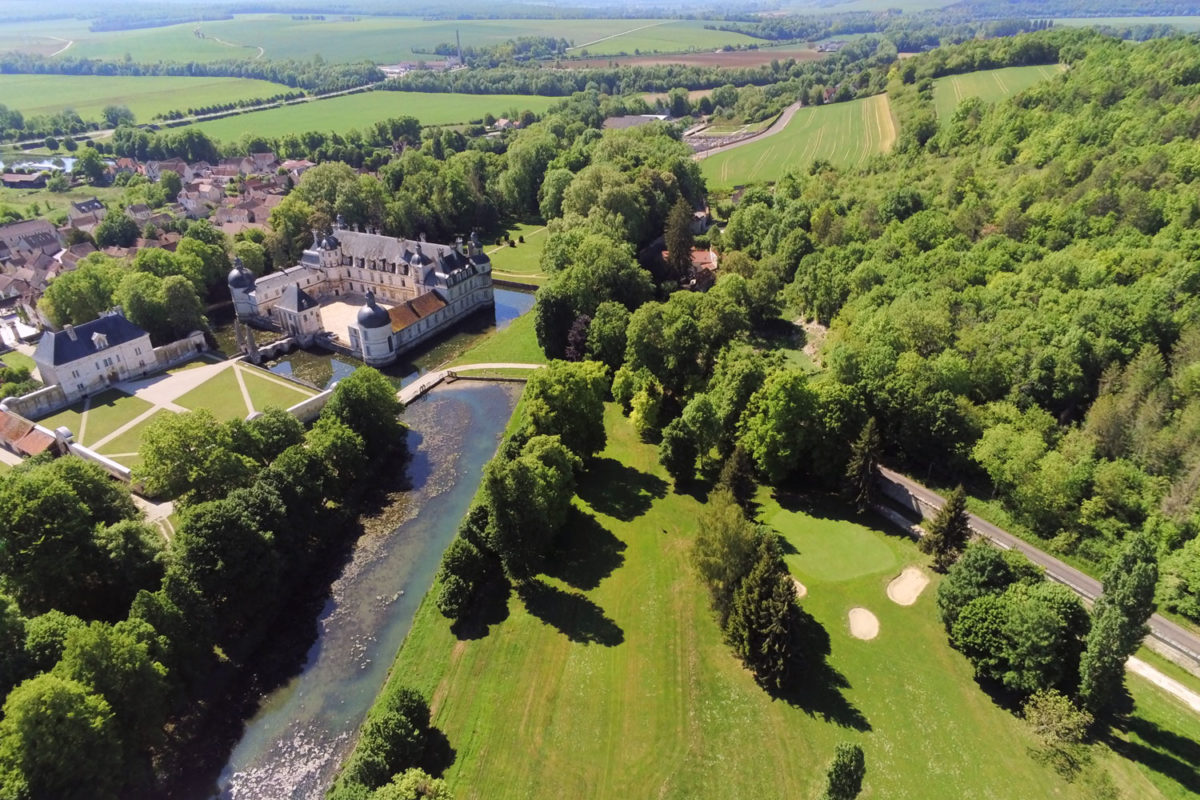 Summary
---
Burgundy canal
7 days, 6 nights. Highlights: Chablis, Château of Ancy-le Franc, Noyers, Abbey of Fontenay, Auxerre, restaurant: TBC, 2 Golf Courses.
Sunday
---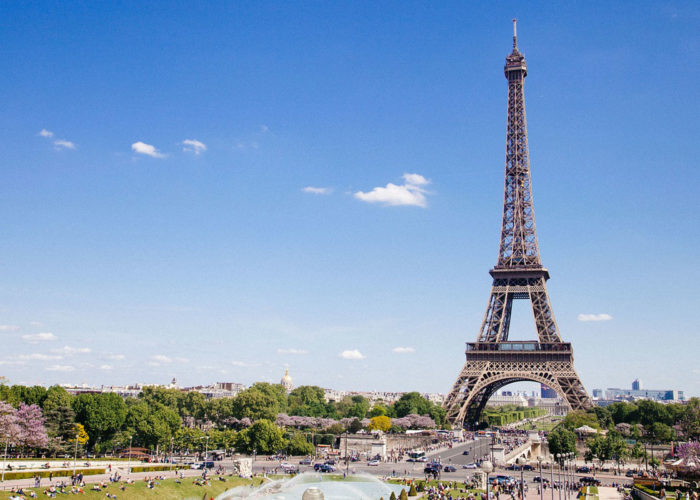 Welcome to C'est la Vie!
Paris to the "C'est la Vie" moored in Ravières.
Your party will be met in Paris at 3pm by our driver and driven to the "C'est la Vie" which is moored in the town of Ravières.
For charter groups your party will be met at one hotel of your choice.
For individual cabin bookings, pick up is at the hotel Madison, 143 Boulevard St Germain 75006, Paris.
With a glass of champagne we welcome you to the C'est La Vie, and after introductions to the crew, you have time to settle into your spacious cabins before your first gourmet dinner aboard.
Monday
---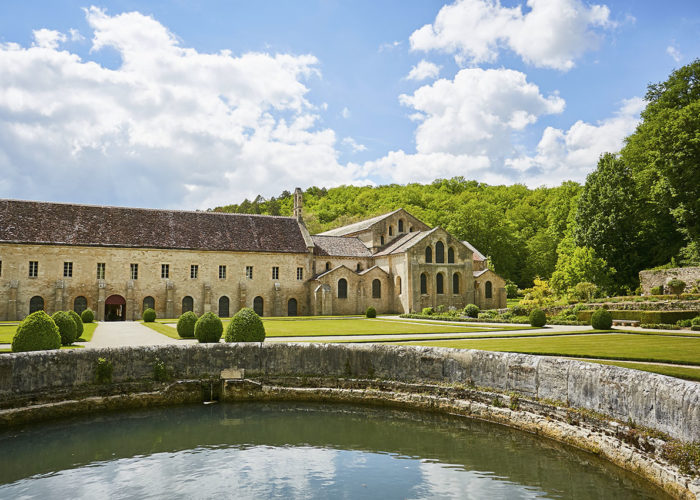 Sightseeing: Abbey of Fontenay
Cruise to Ancy le Franc
Morning cruise to the village of Ancy le Franc, which will allow you time to walk off breakfast of locally baked croissants and other pastries. Enjoy the peaceful countryside as the C'est La Vie meanders its way down the canal.
After a buffet lunch you will be driven to the Cistercian Abbey of Fontenay, founded by St Bernard and dating back to the 12th Century, it is listed on the Unesco World Heritage site. It survived the revolution by being bought and turned into a paper factory. It remains in the same family, who have being restoring the buildings to their original state.
Returning to the "C'est La Vie" for dinner.
Tuesday
---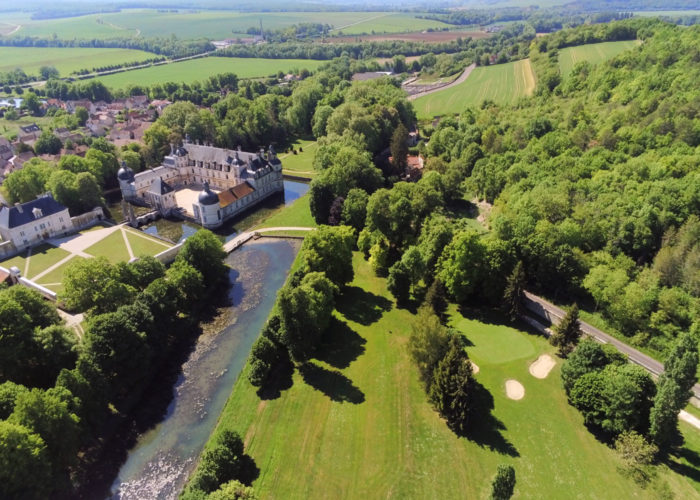 Sightseeing: Chateau of Ancy la Franc, Golf at the Chateau of Tanlay
Cruise to Lézinnes
Enjoy breakfast before being driven or if you prefer a short walk to the gorgeous Renaissance Chateau of Ancy le Franc. Built in the 16th century, today it is often the back drop for films or period dramas. Situated along the banks of the canal it is well placed for this morning's visit.
Renowned for its 16th-century wall paintings and frescos (which are said to rival Fontainebleau), Ancy-le-Franc is being extensively and sensitively renovated.
Return to the "C'est La Vie" for lunch and an afternoon cruise to the small town of Lézinnes or be driven to the golf course at the Chateau of Tanlay (click here to visit their website) for 9 or 18 holes.
For tonight's dinner you will be driven to the town of Chablis to the recently refurbished restaurant, Hostellerie des Clos (click here to visit their website).
Wednesday
---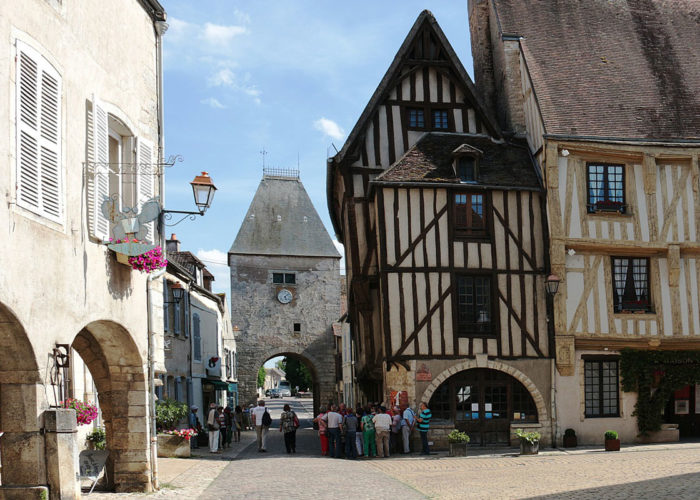 Sightseeing: Noyers with its local market
Cruise to Tanlay
Morning visit to the medieval town of Noyers. Where you can walk through the cobbled streets enjoying the local market and discover the old ramparts and half timbered buildings from the 15th/16th centuries, stroll along the banks of the river Serein which surrounds the town. Noted as one of the prettiest towns in France, Noyers is also famous for its truffle auction in November, which attracts people from all over Europe.
Drive back to the "C'est La Vie" through fields of wheat and grazing animals for lunch, which can be served on the sun deck weather permitting and enjoy the afternoons cruise on the Burgundy Canal to Tanlay now lined by poplar trees, a perfect moment to put on your walking shoes and explore the towpath and small villages along the way.
Dinner on board the C'est La Vie.
Thursday
---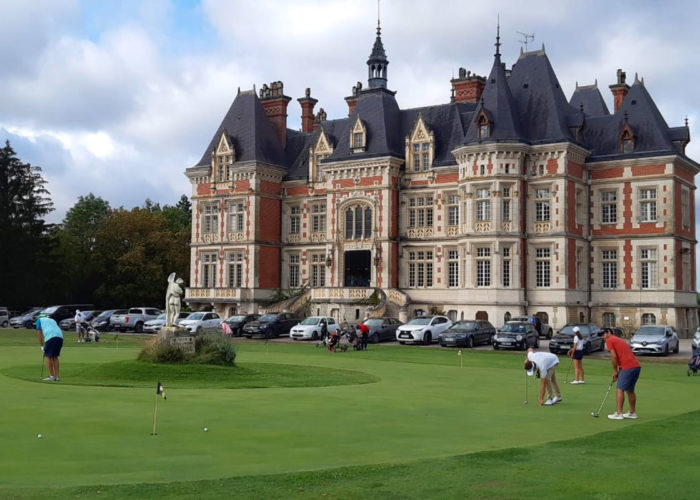 Sightseeing: Chablis, wine tasting and golf at the Chateau de La Cordelière
Cruise to Chatillon sur Loire.
Morning visit to the town of Chablis, where you can taste some of the famous white wines of this region in one of their local cellars and enjoy a drive through vine yards which cover the hill sides for as far as the eye can see. After lunch, golf can be arranged at the 18 hole course of the Chateau de la Cordelière in Chaource (click here to visit their webite), or if you prefer to cruise, sit on the sun deck and relax as we pass through the old town of Tonnerre with buildings from many eras, including Roman and Medieval, take a bike and discover the Hospice of Tonnerre dating from 1293 and the Fosse Dionne, once a Roman watering hole it was turned into a local washing place (Lavoir) in the 18th Century.
Dinner aboard the "C'est la Vie.
Friday
---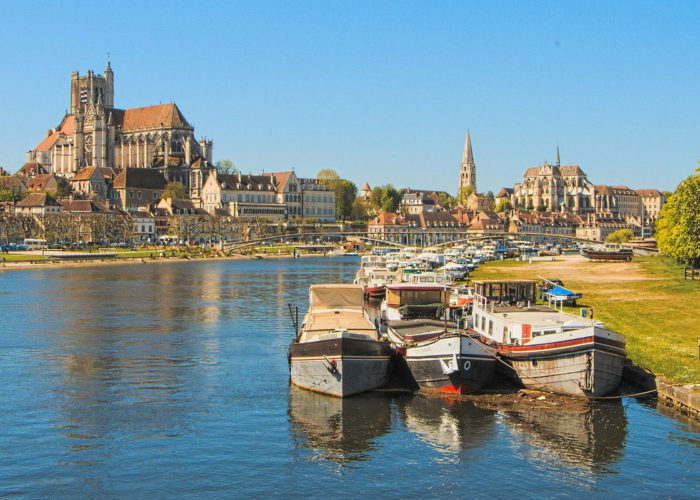 Sightseeing: Auxerre
Cruise to St Florentin
This morning's cruise will take us to the town of St Florentin by early afternoon. After a buffet lunch of salads, cold or hot meat dishes, cheese and of course wine, we will drive to the town of Auxerre. On the banks of the river Yonne, this historic town first settled by the Romans boasts a Cathedral, an Abbey and a Church.
With many styles of architecture, this is the ideal place to stroll and see what a prosperous city looks like; it's from the quay here in Auxerre that wines from Chablis were transported to Paris. Walk along its narrow streets and window shop or just sit and relax with a coffee in one of its many cafés reflecting on Napoleon, Joan of Arc or Charles VII who all passed through this elegant town.
Return to the "C'est La Vie" for the Captain's Dinner, which ends your cruise in style.
Saturday
---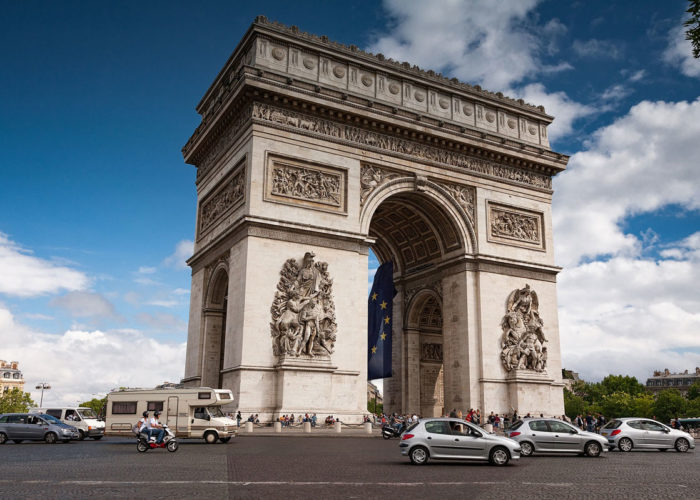 Return to Paris
After breakfast, at 9.30 you will be chauffeured back to Paris for the end of the morning.
We look forward to your company again on the "C'est la Vie"!
Notes
---
Please note that the route is run in reverse on alternate weeks and can be different due to local conditions.
Golf clubs can be hired from the golf courses if required. 
Please let us know if you are interested in hiring a golf cart.
The days of golfing may change depending on availability.
The golf courses of Chailly-sur Armançon and Roncemay can also be added during the week if required.
The golf fees (not included) are paid directly at the golf courses, please ask for prices if interested.
All golf courses are known to Deb & Olivier, either one would be very happy to join you for around or 2 time permitting.